During 2020, while residents in our care homes across Bedfordshire were facing greater isolation than ever, we tried to find new ways to connect with them and let them know they were not forgotten, and Timeless Tales came into being through a partnership between local theatre, The Place and Friends for Life.
Our Timeless Tales campaign aims to bring stories, songs and poetry into care homes – initially this was done virtually, though during 2021 we have been able to make in-person garden visits to some local homes.  One of the eventual aims of the project is that residents might write and record their own tales to share with us too.  
Over several months in 2020-2021, recordings of children, adults and families reading their favourite stories or poems were sent to care homes to play to residents.  
If you would like to find out more or be part of our project, please do get in touch! 
Here's how the project started:
What participants said about the on-site visits during Art In Care Homes Week, September 2021:
"I have been involved with Timeless Tales since its inception and it has been a fantastic experience. From recording pieces to send to homes virtually, to being able to go into homes in person over the last couple of weeks, has been so uplifting. The visits were such a moving experience, the residents were engaged and seemed to really enjoy the readings. I would love to be involved in the future and take more poetry and prose selections into local care homes"
"This morning I visited two care homes and sang a few songs with my guitar as part of the Timeless Tales project in collaboration with Friends For Life. Music is such a universal and powerful language and I was moved by the response of the residents who joined in with many of the songs and knew all the words. I noticed one gentleman who had tears in his eyes when I sang Will You Still Love Me Tomorrow. I think songs have a real capacity to break through all sorts of age and gender barriers and I was genuinely uplifted by the experience."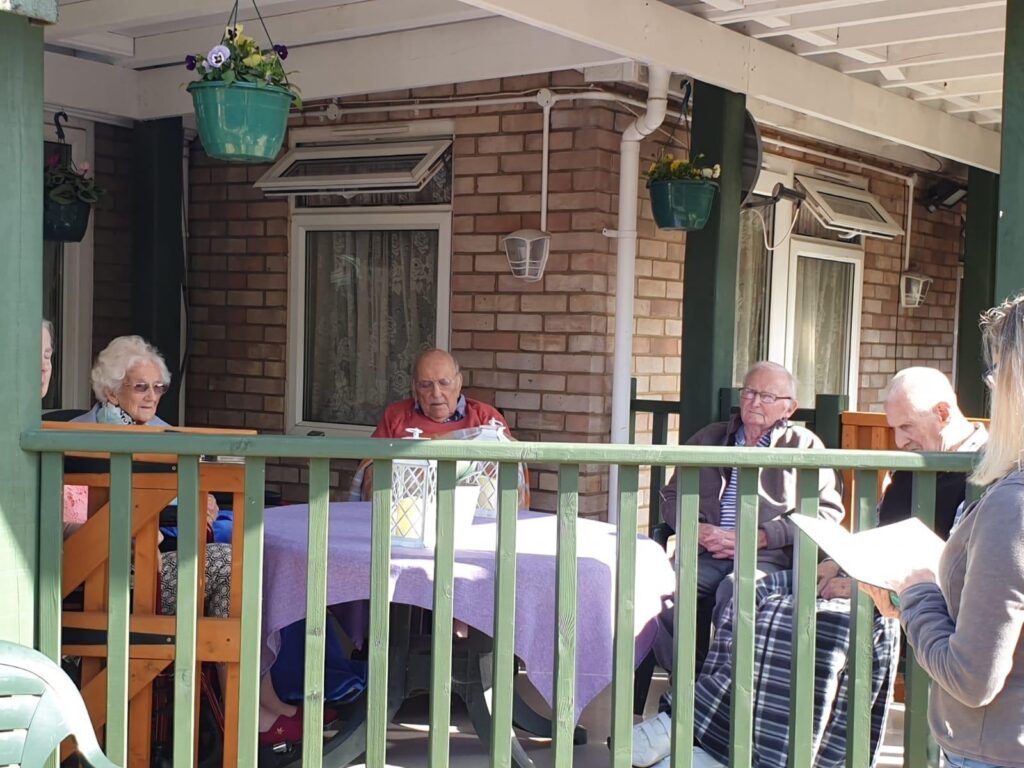 We have continued our Timeless Tales project into 2022 and are so pleased to announce that we are now working closely with The Place Theatre to roll out a specific programme in 4 Bedford care homes. This is thanks to the support and funding from East London NHS Foundation Trust fund. 
Our community-focused arts project, in collaboration with The Place Theatre, will use the funding for its programme to promote companionship and improve wellbeing with residents in local care homes using stories, poetry and songs.
The project will focus on homes in which there are 70% or more residents living with dementia.  The programme brings poetry to care homes with progression planned beginning with performance poetry and ending with residents creating their own poetry and performing themselves.  We are working closely with the teams in the homes to enable them to continue the programme after our 11 weekly session in each home come to an end.  The first two care homes we will be working with are Lillibet House and Elcombe House, reaching 53 residents across these two homes.
The team wishes to thank ELFT, the care homes who continue to welcome us with The Place Theatre and, of course, our amazing volunteers who are so vital to our project.